Wound Care & Treatment Center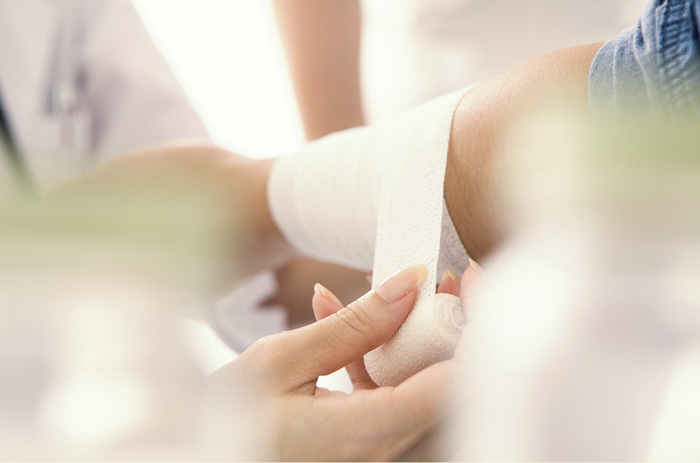 Brookside Multicare Nursing Center provides wound care as one of its many specialty care services. If you or a family member requires treatment for a chronic wound, know that you're not alone—more than six million Americans require wound care treatment annually. Wounds that are frequently problematic and require special attention include arterial, neuropathic, pressure, venous, and diabetic ulcers; osteomyelitis; soft-tissue and osteoradionecrosis; surgical wounds; and burns. (Diabetes leads as a cause of chronic wounds; as many as 15% of diabetic patients will develop foot ulcers in any given year.)
The first step in healing wounds successfully is an accurate wound assessment. Once a wound is appropriately assessed, treatment plans can be more targeted and cost-effective, and recovery times may be shorter. Patients are more satisfied, and better outcomes are more likely, which may improve overall patient well-being.
Following assessment, our multidisciplinary, physician-driven team will develop an individualized treatment plan. Success rates in healing among our patients suffering from non-healing wounds are high, and the tools and therapies employed as a part of treatment may include:
Debridement.

Bioengineered skin grafts.

Hyperbaric oxygen therapy.

Biologic and biosynthetic dressings.

Growth factor therapies.

Negative pressure wound therapies.

Patient and family education.

Physical therapy.
Wound care education, meanwhile, is one of the most powerful tools available in treating current and preventing future wounds. The more educated patients and caregivers are in knowing the risks for wound development and how best to manage those risks, the greater the likelihood of avoiding them in the first place.
Among the advanced technologies we use to impact outcomes is hyperbaric oxygen (HBO) therapy. HBO delivers high volumes of concentrated oxygen to the bloodstream. Concentrated oxygen aids in healing wounds and fighting infections. Additional benefits of HBO include improved circulation and the stimulation of new blood vessel growth. All are good news for patients seeking a reprieve for the pain, stress, and other potential consequences associated with chronic and non-healing wounds.
Contact us for more information about our available wound care services.
*If you observe signs of infection, increased temperature, odor, increased drainage, increased pain, coolness or heat at the site of your chronic wound, please seek immediate medical attention.