Nursing Home Ventilator Care Services
Brookside Multicare Nursing Center is a leader in the rehabilitation of patients using ventilators for chronic respiratory-related medical conditions. We offer both short and long-term care services. Our multidisciplinary approach assists patients in regaining the ability to once again breathe on their own while weaning them off the mechanical means to do so.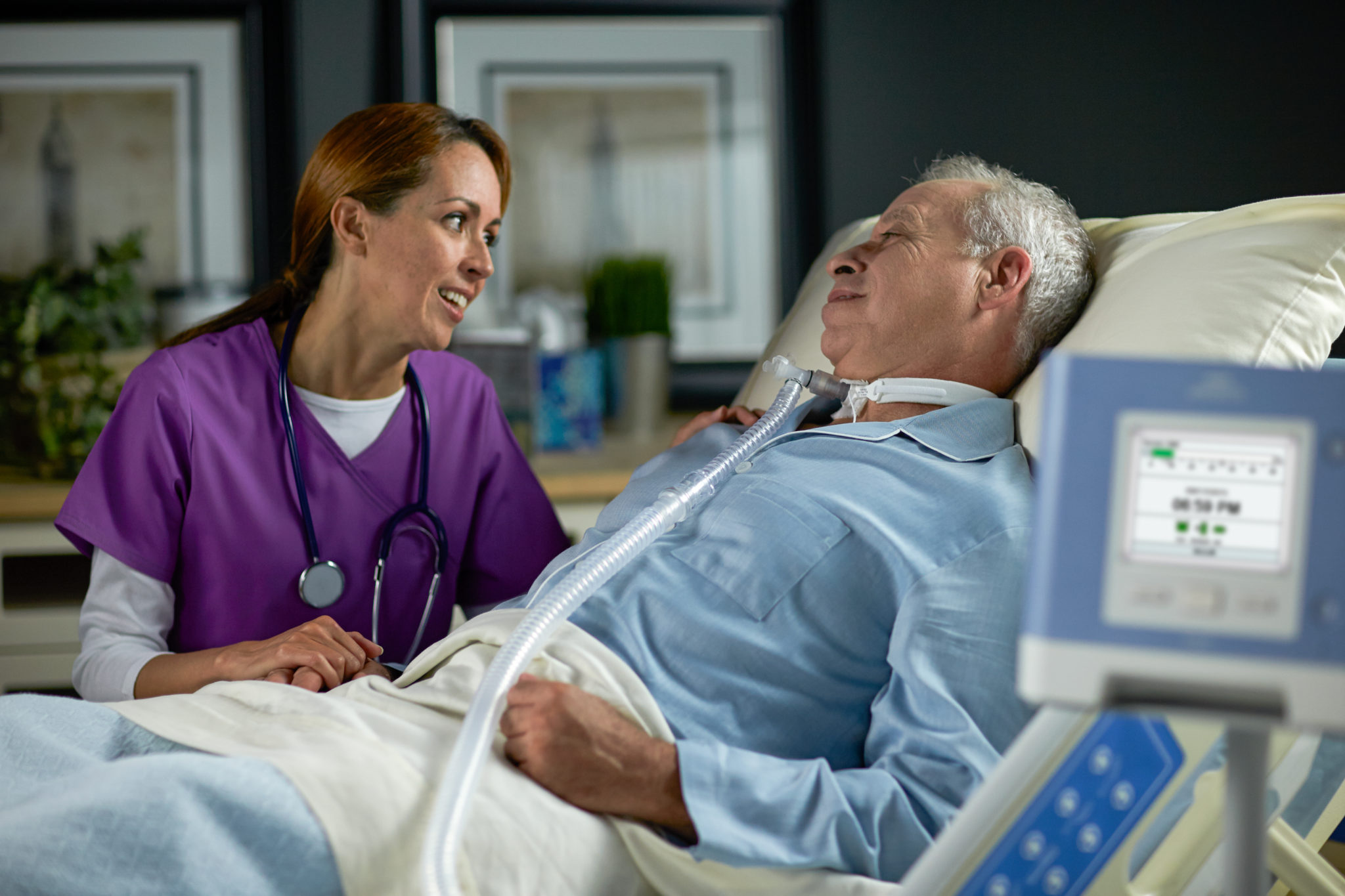 Ventilators support and assist in breathing and may be deemed necessary for a person who is in respiratory failure and for whom it is difficult to breathe or to get enough oxygen to the bloodstream. The bellowing action of the ventilator moves oxygen (and carbon dioxide) into and out of the lungs. Each patient's medical team easily controls the rate of respiration and the amount of oxygen entering the lungs.
Patients who may have lost the ability to breathe on their own or who may need a little help breathing are candidates for inpatient care and may include those suffering from:
ALS (Lou Gerhig's disease)

A brain injury

A collapsed lung

COPD

A drug overdose

Pneumonia

Stroke

Upper spinal cord injuries

Sepsis, lung infections

Asthma
Patients recovering from surgery or COVID-19 may also require ventilator care services.
Being on a ventilator isn't entirely without risks, however. For example, ventilator use can inhibit a patient's ability to cough, and coughing can clear out the lungs and prevent other illnesses (such as pneumonia) from taking hold. Our professional nursing environment, however, puts the focus on each patient's individual needs and can help prevent the introduction of other healthcare conditions into a patient's life.
Ultimately, the goal for such patients is to be weaned off ventilator use and to return to their everyday lives. Often, weaning off ventilator dependency includes the support of a host of Brookside medical professionals, including physicians, nurses, and respiratory, physical, occupational, and speech therapists, in addition to case managers and psychologists. Studies show that such coordination, along with individualized patient care plans, leads to the best possible outcomes for patients and their families.
There are situations, however, in which long-term respiratory failure is irreversible. When that is the case, we provide compassionate care in addition to ventilator administration, monitoring, and measuring to ensure patients enjoy their lives to the greatest degree possible.
For more information about ventilator care services or other services available, please contact us.